Amanda Apgar, PhD (she/her)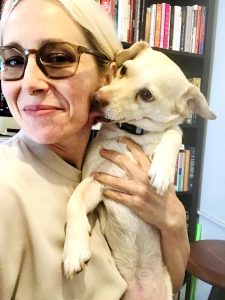 Experience in the Disability Community:
I have been teaching and researching in critical and feminist disability studies for 8 years. My book, The Disabled Child, was published in 2023 with U Mich Press, Corporealities Series. I have over a decade of advocacy experience, primarily at the intersections of disability and law, education, and accommodations.


Board, Committee, and/or Conference Involvement:
My experience is limited! In 2016 I was a member of the conference organizing committee for Disability as Spectacle (UCLA), and in the years since I have been an active member of numerous university committees (primarily disability and DEIA related). The SDS Board would be my first real board experience. While this will certainly mean I face a learning curve, I'm a quick study and eager participant.
Hopes, Plans, Comments:
I bring two characteristics that I feel support the Board and SDS: first, I am a strong communicator (written and spoken English and ASL). I have excellent editing, organizational, and straightforward communication skills. This skill set includes eliminating broken links, reducing verbosity, strategic repetition, and the spatial organization of information, all of which benefit a diversity of neurotype and receptive language capacity. Second, I believe SDS is *the* place in academia for critical disability studies and bring enthusiasm for strengthening conferencing, programing, and other avenues for advancing our robust intellectual work, always in collaboration with community and non-academic partners.
Dr. Amanda Cachia, PhD (she/her)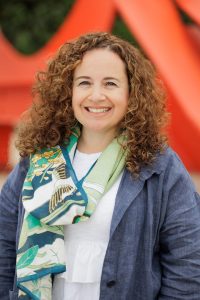 Experience in the Disability Community:
I am a disabled curator, art historian, critic and activist. My PhD in Art History, Theory & Criticism at UCSD was focused on the intersection of art history and disability studies. My first monograph, The Agency of Access: Contemporary Disability Art and Institutional Critique will be published by Temple University Press in Fall 2024. I have written many journal articles and essays in edited volumes focused on the intersection between contemporary art, curatorial studies and disability studies. As a person with a rare form of dwarfism (brachyolmia) I have a valuable lived experience of disability to contribute to the SDS board.
Board, Committee, and/or Conference Involvement:
I have worked as a Gallery Director/Curator of non-profit art galleries for 10+ years, including work as an independent curator. I have worked with gallery and library boards and committees. I have organized and chaired many panel discussions and conferences, particularly through UCSD and the College Art Association.
Hopes, Plans, Comments:
I hope to offer my voice as a disabled arts leader and curator in the field of disability studies. I am committed to supporting scholars, artists, and activists motivated by the diversity of disability experiences. I am also committed to incorporating perspectives from around the world, from different professional trajectories, and across the life course. I would like to help SDS rethink how the organization can meet the diverse needs of its constituencies and provide a wide variety of forms of engagement across modalities and institutional forms


Dr. Kurukhetra Dip (he/him)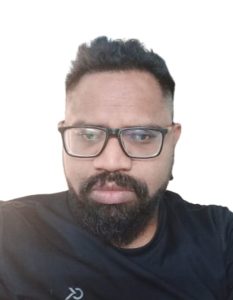 Experience in the Disability Community:
I have personal experience with a disability as a result of my own disability. I've submitted two theses: the first is for an M.Phil. degree, on "Disability Act and State Policies," and the second is for PhD. Degree in "Representation of Disability in Cinema." Further, I have been involved in many ongoing research on Disability issues.
The above trajectory and engagement with Critical Disability Studies, help me to have a deeper understanding of the social model of disability, which emphasizes that disability is a result of societal barriers rather than an individual's impairment. Familiarize yourself with key theorists, activists, and historical events in the disability rights movement. Further, this engagement pushes me to be involved in disability activism by supporting initiatives that advocate for equal rights, accessibility, and inclusion. Attend or organize events, workshops, and protests that raise awareness about disability issues and push for positive change.
This also helps me to understand that the field of disability studies and activism is constantly evolving. So one has to stay vigilant and up-to-date with new research, policy changes, and emerging issues to deepen your understanding and remain an effective advocate.  
Board, Committee, and/or Conference Involvement:
Ans: As a disability activist and non-profit leader, primarily I have been involved with the following aspects. 
(1)  Conference Involvement
(2)  Advocacy for Policy Work
(3)  Intersectional Approach to Disability Studies
Conference Involvement: Conferences and workshops are a very excellent platform to share, engage in discussion, and connect with other professionals and advocates in the field. In the capacity of presenter, panelist, or attendee, my involvement in conferences has shaped my understanding of discourse and the direction of the field.
As a non-profit leader, I have engaged with various advocacy groups that have a great influence on policy decisions that impact the lives of individuals with disabilities. This experience shows me, to have an influential role in policy, one has to be a great lobbyer. It also helps me to understand that disability is not a unilinear identity rather it cuts across other social identities, such as caste, gender, race, religion, and sexuality. It helped me to develop a comprehensive approach towards Critical Disability Studies involving addressing these intersectionalities and promoting a just and equitable society for all marginalized groups.
Hopes, Plans, Comments:
Serving on the board of a disability-focused organization, such as the Society for Disability Studies (SDS), is a significant responsibility that offers the opportunity to make a positive impact on the field of disability studies and the lives of individuals with disabilities. Here are some key achievements that one should aim for as a member of the SDS board:
Advancing Disability Scholarship:
Inclusive Programming:
Representation and Diversity:
Intersectional Approaches:
Policy Advocacy:
Community Engagement:
Resource Mobilization:
Public Awareness:
Collaboration:
Professional Development:
Policy Analysis:
Continual Learning:
By focusing on achieving these goals as a member of the SDS board, I can contribute to the growth and impact of disability studies, advocate for the rights and well-being of individuals with disabilities, and create a more inclusive and equitable society for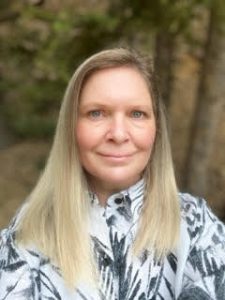 Experience in the Disability Community:
I have a graduate certificate in Disability Policy and Practice. The coursework for this certificate and my MA in Sustainable Communities both had a focus on CDS and DA. My thesis is an auto-ethnography about my experience as a chronically ill student in higher education. As a GA I studied the lack of advocate-run advocacy groups in the State of Arizona. As an neurodiverse person living with chronic illness much of my time is spent advocating for my and others health care, employment, and educational rights.
Board, Committee, and/or Conference Involvement:
I am a board member of The ARC of New Mexico as of this month. Our first board meeting is at the end of this month and we will be assigned committees at that time. I am also a member of the American Humanist Association Board of Directors and serve on the Resolutions, Chapters and Affiliates, and Education committees. As a graduate student I supervised undergraduates as they organized and hosted a Heath Fair for students at Northern Arizona University.
Hopes, Plans, Comments:
I believe my background both personally and professionally would provide a valuable perspective to the board. Representation is important to me. I would like to represent the non-theistic, neurodiverse, rural, and/or chronically ill members within the SDS membership an advocate for and promote the rights of all people who identify as disabled or as a person with disabilities. My educational background includes: BA in Human Development, BA in Environmental Studies, Graduate Certificate in Interdisciplinary Disability Policy and Practice, MA in Sustainable Communities, and MEd in Career and Technical Education. This educational background will provide a unique perspective on the board. Before the pandemic I served as a Job Developer contracted with the New Mexico Commission for the Blind, and New Mexico Division of Vocational Rehabilitation. From this perspective I would like to contribute to the implementation of the SDS Mission and Principles.
Kevin Mintz, PhD (he/him)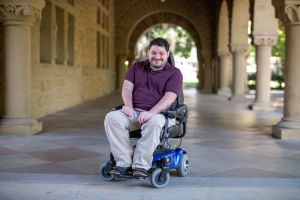 Experience in the Disability Community:
I was born with moderate cerebral palsy. I would bring to the board a lifetime of experience breaking down barriers for people with disabilities in academia and beyond. I am the first postdoctoral fellow with cerebral palsy to be trained at the Stanford School of Medicine. Along with my mentors, I have been successful in getting the institution to pay for accommodations that go beyond the minimum legal requirements of the ADA. Beyond advocating for myself, I am a self-identified disability bioethicist and "troublemaker;" I never take no for an answer when it comes to disability rights and disability justice.
Board, Committee, and/or Conference Involvement:
At age 16, I was appointed to serve as the first student representative on a panel that reported to my school district's superintendent on special education policy and practice. In this role, I led the development of a disability awareness program that was integrated into my district's social studies curriculum. In college, I cofounded my school's first University wide disabled students' group, which organized annual symposia. Currently, I organize panels on disability bioethics and intersectional structural inequities for the American Society for Bioethics and Humanities Annual Conference, as well as volunteer to review panel proposals for that conference.
Hopes, Plans, Comments:
As a trainee in a medical school, I often feel "stuck" between two worlds: academia where I am often the only crip in the room, and the disability community, where I often see myself as not crip enough. If elected to the SDS Board, my goal would be to help grow the organization's presence and credibility in academic medicine and other professions. That way, "troublemakers" like me who break down barriers in ableist fields might not feel as isolated as I have often felt throughout my career.
Dr. Nicole Lee Schroeder (she/her)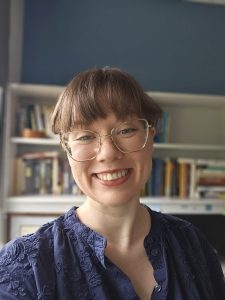 Experience in the Disability Community:
I am a historian of disability, working with Critical Disability Studies methodologies to retrace discriminatory medical and welfare practices back to their roots in Western biomedicine. I identify as disabled and I began my work in disability rights activism over a decade ago. In 2020, I founded the Disabled Academic Collective (DAC) which has supported more than 850 disabled academics to date. The DAC offers disabled students, staff, faculty, and community members the opportunity to discuss pressing issues in higher education. The collective provides support, mentorship, resources, opportunities, and camaraderie to disabled academics regardless of academic affiliation.
Board, Committee, and/or Conference Involvement:
At my PhD-granting institution, I mentored a student advocacy group and served on a committee that established a Disability Studies minor, hosted disability-related events, and advised on campus-wide issues of inclusion. I was involved with the planning of a biennial Disability Studies symposium and I provided expertise to working groups, event planners, and new educators. I currently serve on numerous committees at Kean University to advance belonging and inclusion for disabled students, staff, and faculty. I have served as the managing editor for a graduate-student-run open-access journal in history and I excel at event planning, communications, and social media management.
Hopes, Plans, Comments:
I am excited to support the SDS community and leverage my skills to promote inclusivity in the field. I hope to assess membership needs, design meaningful supports, and use institutional resources for community gain. I am eager to assist with our traditional conference and journal publication alongside new modalities that authentically support our global membership. I bring a commitment to emancipatory and participatory-driven practices that center disabled communities. Along with our broader membership, I aim to foster sustainable, equity-driven change in the field of Disability Studies. I look forward to working with and learning from other members in this endeavor.
Kevin Timpe, PhD (he/they)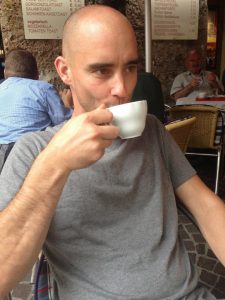 Experience in the Disability Community: 
I write on the philosophy of disability (drawing on both CDS and DJ), teach courses on disability at my university, do non-profit disability advocacy, and serve on the American Philosophical Association's Committee on the Status of Disabled People in the Profession.
Board, Committee, and/or Conference Involvement: 
I run my own advocacy non-profit, focusing primarily on advocating for disabled students in public and private K-12 schools; I have served on the board of All Belong, a non-profit; have served the American Philosophical Association in a number of committee roles; and presently serve on the North American Society for Social Philosophy's Committee on Disability and Accessibility.
Hopes, Plans, Comments:
I want to serve the SDS community, whose work I endorse, have benefitted from, and want to help support.

Experience in the Disability Community:
My experience with Critical Disability Studies is intertwined with my academic career, and my Gender, Women, and Sexuality studies concentration, which also fostered my own relationship with Disability in a positive manner and allowed me to embrace my body mind as it is, instead of insisting that I am something else. My course experience includes feminist Disability studies, Disability and Gender: Foundational Theories and Activism, and an independent research project on how to integrate Disability studies into the classroom and presenting at the 2022 SDS conference. I have also been influential in impacting my professors by electing to complete final projects/papers on topics in Disability studies that have shaped how they will teach their courses moving forward. 
Board, Committee, and/or Conference Involvement:
While I do not have direct experience working with, or on a Board, I do have experience being a part of a variety of committees. During my time as a student at the University of Washington – Bothell, I was a student representative on the Student Conduct Committee & Diversity Task Force. As a member of Student Government, I took on the role of peer coaching, hiring, meeting organization, and administrative tasks. I do have experience working as a program assistant putting on two-day virtual summits, planning webinars, digital marketing strategies, and creating a new program from the ground up. 
Hopes, Plans, Comments:
I hope to be an active member of the SDS Board and aid in finding ways to get students more involved, and aware of the Disability policies on their campuses, how to integrate Disability studies into their classrooms (especially Business and STEM), and alternative ways of sharing information and learning. My background in Business, when combined with my academic background, highlights the need for Disability studies to be effectively integrated into all classrooms. 
Nick Wingez-Yanez (she/her)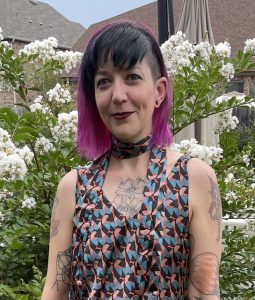 Experience in the Disability Community:
I lead the Disability Studies academic program at UT Austin via the School of Social Work and teach the courses as an Assistant Clinical Professor. I am also part of the Disabled Faculty Equity Committee and the Disabled Faculty and Staff Resource Group and the advisory committee for the Disability Cultural Center on campus. I am autistic and sister to a wonderful woman with an IDD label.
Board, Committee, and/or Conference Involvement:
I have not had much experience; my social work field placements were in Cascade AIDS Project and Jewish Family Services, both in Portland, OR and I briefly worked with the Arc of Texas when I moved to Austin.
Hopes, Plans, Comments:
I hope to increase the activity of the society. I have heard amazing stories of past conferences (generally referring to the dances) and I want this enthusiasm and camaraderie to be synonymous with SDS