Great News from Disability Studies Quarterly!
Dear Members and Friends of SDS:
We wanted to share with you all some good news! After a careful, widespread international search, the SDS Board of Directors have appointed new Co-Editors-in-Chief for our flagship journal, Disability Studies Quarterly. Please join me in welcoming Donald Grushkin and Jeff Brune. We appreciate your patience through this process, especially those of you who have had work in the publication pipeline or under review as we made this transition. At this point, the journal is back up and running and will soon be functioning at full capacity. Please let Drs. Grushkin and Brune know if you have any questions at the new DSQ email address: dsqeditors@disstudies.org. The SDS Board is eager to see them implement their vision for the Journal. We believe that you will be excited about DSQ's journey as it continues to support innovative and critical approaches to Disability Studies.
The SDS Board would like to thank DSQ's outgoing Editorial Assistant, Kelsey Henry, who stepped in to shepherd the journal during the time between the departure of the former editors and the onboarding of the new team. Her work during these past months has been absolutely critical to the continuation of DSQ.
Below, we would like to share brief bios for all three of these individuals, so you–as members and friends of SDS–have some familiarity with the the backgrounds and perspectives of the folks that have worked or will be working to maintain DSQ's status as a premier venue for Disability Studies research.
Dr. Jeff Brune is an Associate Professor of History at Gallaudet University in Washington, D.C. He is the co-editor, with Daniel J. Wilson, of Disability and Passing: Blurring the Lines of Identity. He is now working on a history of the fear of welfare fraud in nineteenth-century American political culture and the intersection of disability, race, and gender in welfare discourse. He has also published in African American Review and in Disability Studies Quarterly, where he edited a forum about the legacy of Erving Goffman's Stigma. He has received a yearlong residential research fellowship at the Center on Human Policy, Law, and Disability Studies at Syracuse University and a Priority Grant from the Gallaudet Research Institute. Jeff loves the work of editing and is excited about collaborating with other scholars while working for DSQ.
Dr. Donald Grushkin is a professor of Deaf Studies at the California State University – Sacramento. He earned his doctorate at the University of Arizona with a degree in Language, Reading and Culture. He has published on Deaf culture and community, including topics centering around literacy, Deafhood, hard of hearing people and signed language linguistics. Donald engages in social media, having been a vlogger under his website, Dr. DonG's Deafhood Discourses as well as YouTube, and currently is active both on Facebook, and as a writer on Quora, where he answers questions on Deaf culture and signed language linguistics. Donald is also the proud co-editor of Deaf Empowerment: Resistance and Decolonization. 
Kelsey Henry is a PhD Candidate in American Studies at Yale University, where she received an MA in the History of Science and Medicine and is pursuing a graduate certificate in Women's, Gender, and Sexuality Studies. Her dissertation follows the enduring legacies of nineteenth-century scientific metrics of human development and racial difference and their effects on the epistemological and ethical parameters of twentieth-century child development research. Her research has received funding from the Institute for Citizens and Scholars, the Mellon Foundation, the Consortium for the History of Science, Technology, and Medicine, Yale's Emerging Scholars Fellowship, and the Ford Foundation Predoctoral Fellowship. Kelsey served as the Assistant Editor of Disability Studies Quarterly from Fall 2020 – Spring 2023 and co-hosts the Disability History Association Podcast. Her work has been published in Gender & History and The Point magazine. Kelsey is currently guest editing a special issue of Disability Studies Quarterly on racial histories of disability, forthcoming in Fall 2023. 
Please join us in welcoming Donald and Jeff onboard, and in thanking Kelsey and the previous editors for all of their work to support DSQ. 
Thank you all for your continued support of SDS and DSQ.
Sincerely,
Board of Directors
Society for Disability Studies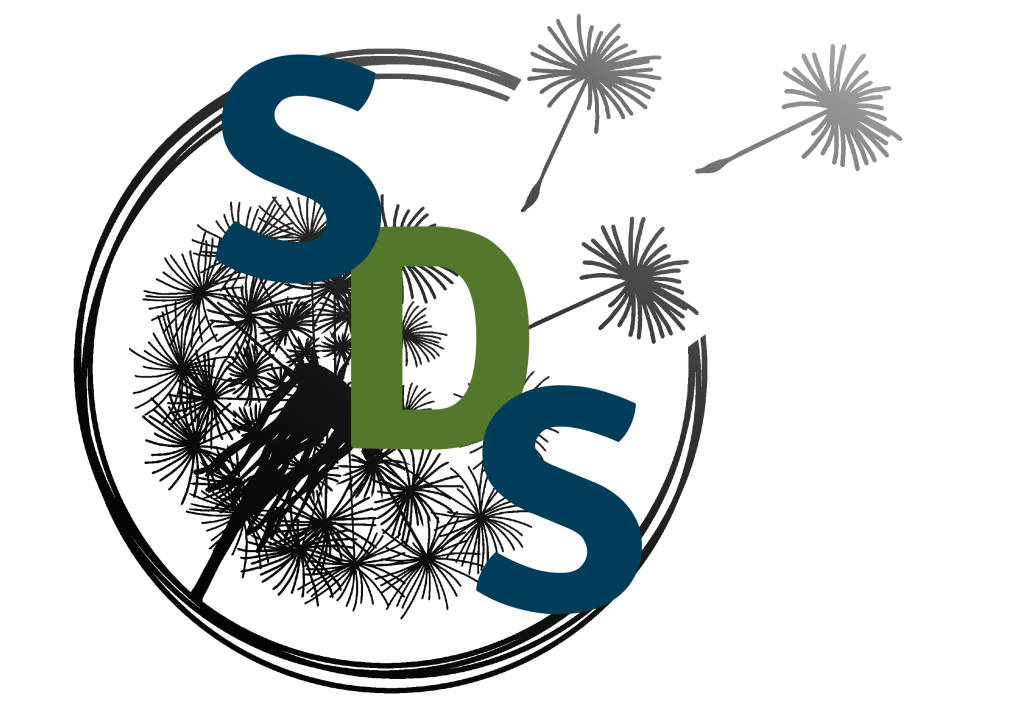 Please excuse the adjustments to our website as SDS tries on a new look for the first time in over 10 years! Our new logo, a dandelion head with a few tufts floating through an embracing circle, is drawn from the critical interdisciplinary and intersectional scholarly and advocacy work that drives our SDS Principles. Black feminist scholar adrienne maree brown explains in her book Emergent Strategy: Shaping Change, Changing Worlds, the natural elements she ties to emergent strategy, or the strategy for building complex patterns and systems of change through relatively small interactions. Of dandelions, she writes, "Dandelions are often mistakenly identified as weeds, aggressively removed, but are hard to uproot; the top is pulled but the long taproot remains. Resilience. Resistance. Regeneration. Decentralization" (46). We see the dandelion as emblematic of embodied experience of disabled lives and the interwoven network of scholarship, advocacy, activism, and collective identity-making that allows us to, in the words of Mia Mingus (2010) Create Collective Access (CCA).